Ethics Enteric Coated Aspirin 100mg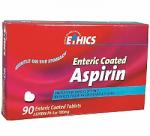 Active Ingredients
Aspirin 100mg
Product Description
Ethics Enteric Coated Aspirin is used to inhibit blood clotting and reduce the risk of heart attacks and strokes. The dose is smaller than is needed for headache and other pain. Specially coated to be gentle on the stomach.
Dosage
Adults: Take 1 tablet daily with a glass of water. Use strictly as directed.
Warnings & Cautions
Keep out of reach of children.
Not recommended for children under 16 years of age except on medical advice.
Do not exceed recommended dose.
Do not give to children or teenagers with chicken pox, influenza or fever unless advised by a doctor.
Preparations containing aspirin should not be taken by people with an allergy to aspirin, or those taking anti-coagulant therapy.
People with peptic ulcers, asthmatics and pregnant women should seek advice before taking aspirin.
Multichem NZ Limited, Auckland.