Le Tan Uber Glow Gradual Tanning Lotion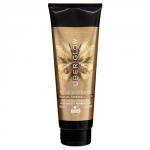 Product Description
Like sunshine in a bottle - this superbly hydrating lotion glides on like a tinted moisturiser and develops into a natural, sun-kissed glow. This multi-purpose lotion can be used as a tan extender to prolong the longevity of your tan or simply as a daily gradual tanning lotion. The luxurious formula is infused with iridescent light reflecting particles to illuminate skin and is enriched with Macadamia Oil to deeply hydrate and nourish skin. Suitable for all skin tones.
TIP: This product can be used in the days following the application of the Uber Glow Self Tanning Foam to extend the life of your tan.
Made in Australia. Vegan friendly & cruelty free.
Directions For Use
For best results, ensure skin is clean and exfoliated.
Apply evenly to skin as you would a regular body moisturiser. Use sparingly on knees, elbows, hands and feet.
Wash hands after use. Colour will develop over 4-6 hours.
Apply daily or until desired depth of colour is achieved.
Warnings & Cautions
Keep out of reach of children
For external use only. If swallowed, seek immediate medical advice from a doctor or poisons centre.
Keep away from eyes.
If irritation occurs, discontinue use & seek medical advice
This product does not contain sunscreen & does not protect against sun exposure.
Heritage Brands (Australia) Pty. Ltd.