Le Tan Uber Glow Self Tanning Foam - Ash Base for Fair Skin Tones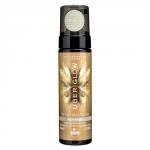 Product Description
This Ash Based formula compliments natural fair skin, for a glowing medium-brown tan.
Like sunshine in a bottle - this illuminating foamed oil effortlessly glides on to give your skin a flawless, medium golden glow. The luxurious formula is enriched with Macadamia Oil to deeply hydrate skin for an illuminated and longer lasting tan. Fragrance-free formula with cutting-edge odour neutralisers to ensure no fake tan smell.
While all base colours can be used on all skin tones, you are able to tailor your tan to your unique skin type. Here is a guide:
Do you tan in the sun easily? Try Violet Base.
Are you naturally fair skinned? Try Ash Base.
Looking for an "all-rounder"? Try Green Base.
Made in Australia. Vegan friendly & cruelty free.
Directions For Use
For a flawless, streak-free tan, ensure skin is clean and exfoliated.
Shake well. Using an application mitt, apply evenly to body. Use sparingly on elbows, knees and face. For a medium glow, apply one coat. For a darker glow, apply a second coat.
Allow tan to develop for 3+ hours. Shower in luke warm water for 1 minute. Pat dry. Tan will continue to develop for 4-6 hours.
Warnings & Cautions
Keep out of reach of children
For external use only. If swallowed, seek immediate medical advice from a doctor or poisons centre.
Keep away from eyes.
If irritation occurs, discontinue use & seek medical advice
This product does not contain sunscreen & does not protect against sun exposure.
Heritage Brands (Australia) Pty. Ltd.