Nutra-Life 5-HTP 150mg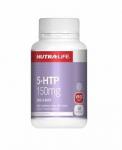 Product Description
This one-a-day, high potency, single ingredient product may help to support a restful night's sleep and mood balance. The 5-HTP is extracted from natural-origin Griffonia simplicifolia seeds. It helps support the body's healthy production of serotonin, which is a precursor of melatonin: your body's natural sleep hormone.
Active Ingredients
Each capsule contains: Griffonia simplicifolia ext. equiv. dy 4.57g, equiv. 5-Hydroxytryptophan (5-HTP) 150mg.
Dosage
Adults: As a sleep aid, take 1 capsule daily with dinner. To support mood balance, take 1 capsule daily with breakfast or lunch. Or as directed by your healthcare professional.
Warnings & Cautions
Keep out of reach of children.
Do not take if pregnant or breastfeeding.
Contains 5-HTP which should not be taken with antidepressants, prescription sleep medication or Parkinson's medication.
If symptoms persist, consult your healthcare professional.
Vitaco Health (NZ) Ltd.
No prices listed for this product.