Australis Queen C Contouring & Highlighting Kit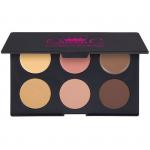 Product Description
The best selling shades from the AC on Tour powder and cream kits are now available in one palette. Start with the creams to create a perfect, subtle base.
Cream shades: banana, highlight, contour.
Powder shades: banana, matte highlight, contour.
Directions For Use
Use the powders over the top to set the look, add extra definition to your cheekbones and highlight your features.
Warnings & Cautions
Patch test before use.
Discontinue use if irritation occurs.
Heritage Brands (Australia) Pty. Ltd.