Sebitar Scalp Cleansing Treatment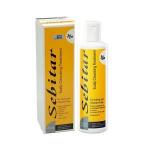 Active Ingredients
Tar (pine) 1% w/w, Coal tar solution 1% w/w, Salicylic acid 2% w/w. Contains Benzyl alcohol 1% w/w as a preservative.
Product Description
Sebitar Scalp Cleansing Treatment relieves itching scalp and reduces inflammation. Reduces scaling and flaking. For relief of the symptoms of seborrhoeic dermatitis (scaling and flaking scalp), eczema and psoriasis of the scalp.
Directions for Use
Use twice weekly up to once daily if required. Wet hair. Apply to affected area. Massage well. Apply more to remainder of scalp and hair. Work into a lather. Leaver for 5 minutes, rinse thoroughly.
Warnings & Cautions
Keep out of reach of children. Do not use on children under 2 years of age unless supervised by a doctor.
For external use only. Avoid eyes. If Sebitar enters eyes, rinse with clean water.
If irritation occurs, discontinue use.
Not recommended for use if you are pregnant or breastfeeding.
Ego Pharmaceuticals Pty Ltd.