Selsun Gold Anti-Dandruff Shampoo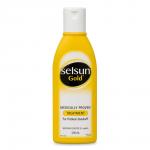 Active Ingredients
Selenium sulfide 25mg/ml.
Product Description
Selsun Gold is a medically proven treatment which can be used for seborrhoeic dermatitis, tinea versicolor, dandruff and as an adjunct in the treatment of tinea capitis.
Directions for Use
Scalp treatment: Apply Selsun Gold to wet hair, lather and leave on scalp for 3 minutes. Rinse. Repeat treatment then rinse thoroughly in running water. Use twice weekly at first, then as necessary or as physician directs.
Skin treatment: Apply undiluted to affected areas for 10 minutes. Rinse thoroughly. Repeat daily for 1 week or as physician directs.
Warnings & Cautions
Keep out of reach of children.
Do not swallow. Avoid contact with eyes.
Avoid use 48 hours before or after permanent waving, tinting or bleaching.
Do not use on severely inflamed skin.
If irritation occurs, discontinue use.
Avoid contact with jewellery.
Sanofi Consumer Healthcare.
No prices listed for this product.