Vagisil Fresh Plus Intimate Wash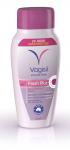 Product Description
The fact is, your intimate skin is delicate and sensitive and not all washes are made with your intimate skin in mind. All Vagisil washes are pH balanced and especially designed for the unique needs of intimate skin, gynaecologist tested, hypoallergenic and gentle enough for daily use. And unlike some other washes and soaps, Vagisil Fresh Plus Intimate Wash is infused with a patented Odour Control Technology. It doesn't just mask odour with a fragrance, it actually helps prevent odour. Now you can feel fresh and confident all day long.
Directions for Use
For external use only. Pour into hand or washcloth and apply. Rinse thoroughly.
Warnings & Cautions
Avoid contact with eyes. If contact occurs, rinse eyes with water.
Keep out of reach of children.
Combe International Ltd. (USA).