Suntivity Daylong SPF50+ Sunscreen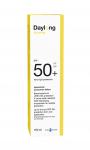 Product Description
Daylong SPF50+ is a special liposomal formulation that provides effective SPF50+ protection for up to 8 hours from 1 application (provided Directions For Use are followed.
Daylong SPF50+ is easy to apply, and has a pleasant and nongreasy formula which won't clog the pores. The lotion is quickly absorbed and nurtures the skin with panthenol, glycerin, aloe vera and vitamin E. Use daily to protect your skin and help reduce the appearance of premature skin aging.
Broad spectrum - high protection against UVA & UVB.
Up to 8 hours protection from one application.
4 hours water resistant.
Directions For Use
Apply generously (2-3 tablespoons for the entire body) to clean, dry skin 20 minutes prior to exposure to the sun. One application allows 240 minutes of water exposure in 8 hours while retaining SPF50+ protection.
Warnings & Cautions
Avoid prolonged exposure to the sun. Always wear a hat, protective clothing and sunglasses.
If rash or irritation occurs, discontinue use & seek medical advice.
For external use only. Avoid contact with eyes.
Keep out of reach of children.
Daylong SPF50+ is not appropriate for infants 1 year and under who should avoid direct exposure to the sun completely.
In cases of severe sunburn always seek medical advice.
Spirig Pharma AG, Switzerland.
No prices listed for this product.