Gold Knight Larger Condoms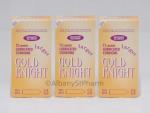 Product Description
Gold Knight Larger are lubricated, wider fit, transparent condoms with a smooth surface and reservoir end. Nominal width 56mm.
Warnings & Cautions
Keep out of reach of children.
Use each condom only once.
No method of contraception can give 100% protection against pregnancy, HIV or sexually transmitted infections.
Store in a cool, dry place away from direct sunlight. Do not expose to mineral oils or solvents.
Jackson Allison, NZ.
No prices listed for this product.