Durex Play Perfect Glide Lubricant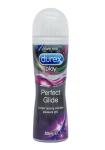 Product Description
Durex Play Perfect Glide is the longest lasting intimate lube from Durex. Its silky smooth, warm to touch silicone base doesn't dry out as easily which means just a small amount can keep you going for longer. Durex lubricants can ease vaginal dryness and intimate discomfort whilst creating a sensual experience for you both.
Warnings & Cautions
Avoid contact with eyes.
This product is not a contraceptive and does not contain a spermicide.
If you experience irritation, stop using this product. If irritation continues or if additional lubrication is needed all the time, see your doctor.
Avoid use if pregnant or breastfeeding unless prescribed by your doctor.
Use within three months of opening.
This product is silicone based and may stain fabrics.
Reckitt Benckiser Healthcare (UK) Limited.