Bondi Sands Sunscreen Oil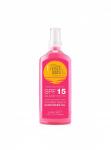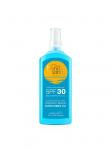 Product Description
Enjoy a sun-soaked day the Bondi Sands way with this unique summer fragrance. The Bondi Sands SPF15 or SPF30 broad-spectrum formula is non-greasy, water resistant for 2 hours and leaves your skin feeling moisturised and protected so you can step into the sun with confidence.
Made in Australia. Not tested on animals.
Directions For Use
Shake well before use.
Apply liberally and evenly to all unprotected areas 15 to 20 minutes before exposure to the sun.
Reapply after periods of swimming, exercise and towel drying.
Warnings & Cautions
Avoid prolonged exposure to the sun. Always wear a hat, protective clothing and sunglasses.
If rash or irritation occurs, discontinue use & seek medical advice.
For external use only. Avoid contact with eyes.
Keep out of reach of children.
Bondi Sands, Port Melbourne, VIC 3207, Australia.
No prices listed for this product.