DermAid 0.5% Cream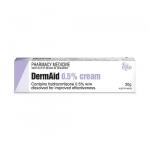 Active Ingredient
Hydrocortisone 0.5%
Product Description
DermAid 0.5% can be used for relief of:
Minor skin irritations
Itching and rashes due to eczema, dermatitis, cosmetics and jewellery
Itching genital and anal areas
Sunburn
If you have sensitive skin, try DermAid Soft 0.5% Cream.
Preservative: Benzyl alcohol 3%. Lanolin-free, paraben-free, chlorocresol-free and pH 5.
Directions for use
Adults and children over 2 years of age: Apply a small amount to affected skin 1-3 times daily. Cleanse with a soap alternative as soap may irritate the skin.
Warnings & Cautions
For external use only.
Avoid contact with eyes.
If condition worsens, or if symptoms persist for more than 7 days, consult a physician.
If symptoms begin to clear up and then occur again within a few days, stop use of this product and consult a physician.
Do not use if you have vaginal discharge.
Do not use on children under 2 years of age except under the advice and supervision of a physician.
Do not use for acne, under waterproof bandages or for more than 7 days unless recommended by a doctor.
If irritation occurs, discontinue use.
In case of accidental ingestion, seek professional assistance or contact a poison control centre immediately.
Ego Pharmaceuticals Pty Ltd.