GO Healthy Go Multi Everyday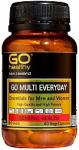 Product Description
Go Multi Everyday is a high potency all in one multi vitamin and mineral supplement designed for both men and women. Go Multi Everyday works to support energy levels and maintain general health and well-being. Taking a high quality multi vitamin and mineral supplement is recommended by Healthcare Professionals worldwide.
Active Ingredients
Each VegeCap contains:
Vitamin B1 (Thiamine hydrochloride) 77mg
Vitamin B2 (Riboflavin) 77mg
Vitamin B3 (Nicotinamide) 77mg
Vitamin B5 (Calcium pantothenate) 112mg
Vitamin B6 (Pyridoxine hydrochloride) 77mg
Vitamin B7 (Biotin) 50mcg
Vitamin B9 (Folic Acid) 300mcg
Vitamin B12 (Cyancobalamin) 50mcg
Choline bitartrate 25mcg
Inositol 25mg
Vitamin E (D-alpha tocopherol) 50IU
Vitamin C (Ascorbic acid) 150mg
Vitamin D3 (Cholecalciferol) 500IU
Beta-carotene 5mg
Iron (as Ferrous fumarate equiv. to Iron 3.1mg) 10mg
Calcium citrate (equiv. to 25mg Calcium) 119mg
Zinc amino acid chelate (equiv. to 5mg Zinc) 25mg
Magnesium oxide (equiv. to 6mg Magnesium) 10mg
Manganese amino acid chelate (equiv. to 2mg Manganese) 10mg
Chromium picolinate (equiv. to Chromium 50mcg) 400mcg
Selenium (as selenomethionine) 150mcg
Iodine (as per Potassium iodide) 150mcg
Citrus Bioflavanoids 25mg
Co-Enzyme Q10 5mg
Ginseng (Panax ginseng) equiv. to dry root 150mg
Kelp equiv. to dry 6mg
Boron 1mg
Contains NO added: wheat, gluten, corn, yeast, milk, artificial flavours or preservatives. May contain encapsulating aids.
Directions
Adults: Take 1 VegeCap daily. Can be taken anytime, with food or on an empty stomach.
Warnings & Cautions
Keep out of reach of children.
This product contains selenium which is toxic in high doses. For adults, 150mcg of selenium from dietary supplements should not be exceeded.
If pregnant or breastfeeding consult your Healthcare Professional prior to taking.
Medicine Interactions: If taking prescription medication or if in doubt consult your Healthcare Professional.
Always read the label and take only as directed.
Take in conjunction with a healthy balanced diet.
Store below 30 degrees celsius.
GO Healthy New Zealand, 71 Nelson Street, Petone, Lower Hutt 5012, Wellington, New Zealand.