Alpine Silk Bee Venom Intensive Serum with 23 Carat Gold Flakes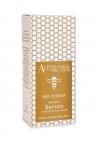 Product Description
This intensive serum helps to gently plump the skin and reduce the appearance of fine lines and uneven skin tone. Gold flakes help to rejuvenate delicate skin cells and help with anti-ageing control. The anti-bacterial properties of bee venom work to reduce redness and skin imperfections while also assisting in the production of collagen.
Advanced serum formula that absorbs quickly into the skin for maximum nourishment and hydration.
Gold flakes are hypo-allergenic and quickly penetrate the skin to provide nourishment to skin cells.
Collagen enables the skin to stretch and be elastic, yet retain firmness and tone.
Manuka honey is an excellent natural exfoliator and helps to gently detoxify, leaving your skin feeling rejuvenated.
Made in New Zealand.
Directions For Use
Apply morning and night to a cleansed face and neck. Use 2-3 times a week.
Alpine Silk Cosmetics, PO Box 2384, Christchurch, New Zealand.
No prices listed for this product.