Alpine Silk Rosehip Ultimate Lifting Eye Crème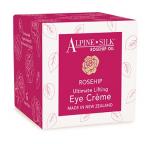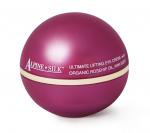 Product Description
Restore lost moisture to the skin around your eyes and help improve firmness and smoothness with this delicate fragrance free eye crème. The rich formula rejuvenates your eye area by helping to reduce puffiness and remove dark under eye circles so you can enjoy a healthy, refreshed looking appearance.
Organic rosehip oil calms skin cells to reduce puffiness and improves skin radiance.
CoQ10 helps slow down the skin's ageing process as it protects against damage caused by UV rays, pollution and stress.
Kiwi seed oil protects cells from environmental damage and helps improve the appearance of fine lines and uneven skin tone.
Fragrance free formulation for the sensitive skin around the eyes.
Made in New Zealand.
Directions For Use
Gently apply a small amount of crème around the eye area. For best results, use daily.
Alpine Silk Cosmetics, PO Box 2384, Christchurch, New Zealand.
No prices listed for this product.