Alpine Silk Rosehip Intensive Recovery Face Mask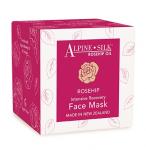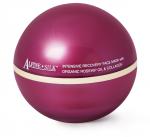 Product Description
Bring back the natural beauty of your skin with this luxurious rosehip face mask. This rich formula has been designed to provide deep nourishment to your skin as well as encourage the natural production of collagen. Enriched with organic rosehip oil, this mask helps treat the face, penetrating into the skin to repair and replenish.
Quickly absorbs deep into the epidermis to relieve dry skin and boost moisture levels.
Organic rosehip oil is a natural source of lycopene, which helps to improve texture for smoother looking skin.
With age, the amount of collagen present in the skin reduces. Collagen enables the skin to stretch and be elastic, yet retain firmness and tone.
Contains the added benefits of sweet almond oil, which has effective therapeutic properties to help sooth and calm skin cells.
Directions For Use
Generously apply mask to a cleansed face and neck and leave for 20 minutes. Wash off gently with warm water and pat dry.
Alpine Silk Cosmetics, PO Box 2384, Christchurch, New Zealand.
No prices listed for this product.