Alpine Silk Rosehip Replenishing Sleeping Crème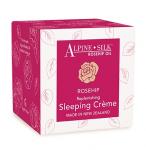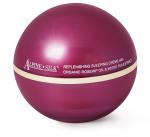 Product Description
Alpine Silk Rosehip Replenishing Sleeping Crème is an intensive treatment that helps enhance your skin's natural night time renewal process. The anti-oxidants within rosehip oil work to improve skin elacticity and texture and relieve tired skin from environmental stresses. Apply in the evening before sleep for a healthier, more radiant looking complexion.
Gently soothes and moisturises, helping to keep your skin soft and supple.
White tea helps to maintain healthy and youthful skin due to its antioxidant properties that work to repair damaged skin.
Rosehip Oil penetrates deep into the skin to provide additional moisture and nutrients to cells.
Enriched with Vitamin A to help improve skin elasticity and smoothness.
Made in New Zealand.
Directions For Use
Gently smooth crème evenly over a cleansed face and neck every evening before sleep.
Alpine Silk Cosmetics, PO Box 2384, Christchurch, New Zealand.
No prices listed for this product.