Alpine Silk Certified Organic Rosehip Oil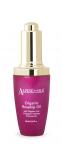 Product Description
Alpine Silk Certified Organic Rosehip Oil delivers the pure goodness of rosehip with the added benefits of organic acai and evening primrose oils to hydrate and revitalise your skin naturally. Rich in vitamins, essential acids and anti-oxidants our organic rosehip oil helps to improve appearance and promote skin regeneration.
Key Benefits:
Rich in Vitamins B, C & E to penetrate deep into the skin, improve moisture levels and stimulate collagen production.
Contains high levels of essential fatty acids including Omega-3, 6 and 9 improve skin flexibility, permeability and aid in skin repair.
Rosehip oil is highly effective in reducing scars, stretch marks and fine lines.
Fragrance free for sensitive skin.
Made in New Zealand.
Directions For Use
Apply 2-3 drops to a cleansed face or body. For best results, use twice daily.
Alpine Silk Cosmetics, PO Box 2384, Christchurch, New Zealand.
No prices listed for this product.