Alpine Silk Rosehip Brightening & Correcting Serum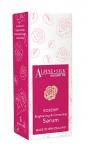 Product Description
Alpine Silk Rosehip Brightening & Correcting Serum is the perfect solution to tired, dull looking skin. The blend of organic rosehip oil and Beta White will assist in illuminating, brightening and correcting the appearance of skin tone and texture. Apply regularly to your skin for a radiant, more youthful looking complexion.
Key Benefits:
Beta White is a whitening peptide, which reduces pigmentation and the appearance of dark spots on the skin for lighter and even skin tone.
Organic rosehip extract improves the appearance of dry and sensitive skin.
Kiwi seed extract contains Vitamins C & E to help maintain moisture levels and treat damaged skin.
Enriched with anti-oxidant rich rosemary extract to help prevent skin damage and uneven skin texture caused from free radicals.
Made in New Zealand.
Directions For Use
Apply 2-3 drops to a cleansed face and neck, gently massaging into skin until fully absorbed.
Alpine Silk Cosmetics, PO Box 2384, Christchurch, New Zealand.
No prices listed for this product.