Freeman Body Scrubs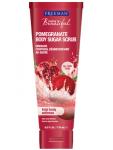 Product Descriptions
Freeman is famous for mixing feel-good fun with fresh botanicals to make products that feel good, smell good, and do good for skin!
Guava Salt Scrub:
Pomegranate Sugar Scrub:
Not tested on animals. Made in the United States of America.
Directions For Use
Freeman Beauty Labs Inc., PO Box 10417, Beverly Hills, CA 90213, United States of America.
No prices listed for this product.