Invisible Zinc Junior Clip On Cream SPF30+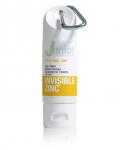 Active Ingredients
Zinc Oxide 18% w/w
Inactive Ingredients
Phenoxyethanol, Caprylyl Glycol.
Product Description
Junior Clip-on Cream offers the same superior UV protection of zinc oxide in a low-irritant formulation for children. Plus this go anywhere clip-on is perfect for prams, baby bags, sports bags, school bags or even your belt buckle. Suitable for the whole family.
Natural, mineral sunscreen
Only active ingredient is Zinc Oxide
No chemical UV filters
No Titanium Dioxide
No parabens (i.e. no methylparaben or propylparaben)
Micronised (not nano) Zinc Oxide
Low irritant for sensitive skins
Broad spectrum - very high protection against UVA & UVB
Product not tested on animals
Directions For Use
Apply liberally and evenly to exposed skin 20 minutes prior to UV exposure, particularly on face, neck and back of hands. Repeat at regular intervals and after swimming. Avoid prolonged UV exposure and always wear protective clothing, hat and eyewear when exposed to the sun.
Warnings & Cautions
Avoid contact with eyes.
Discontinue use and consult a medical practitioner if irritation or rash develops.
Store below 30°C
Valeant Pharmaceuticals Australasia Pty. Ltd., Level 7, 3 Rider Boulevard, Rhodes, NSW 2138, Australia
No prices listed for this product.