Ferrograd C - Iron & Vitamin C Tablets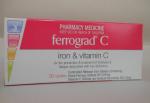 Active Ingredients
Each controlled release iron tablet contains: Dried Ferrous Sulfate BP 325mg, Vitamin C 500mg
Product Description
Ferrograd C tablets are used for the prevention and treatment of tiredness and fatigue associated with iron deficiency. Because they gradually release the necessary amount of iron, they are gentle on the stomach. The combination of Iron and Vitamin C enhances iron absorption.
Directions For Use
Adult dose: One tablet daily or as directed by your physician. Can be taken on an empty stomach or after a meal. Tablets should be swallowed whole, not crushed or chewed.
Warnings & Cautions
Keep out of reach of children.
Iron supplements should not be taken for more than 12 months without consulting your healthcare professional.
Vitamin supplements should not replace a balanced meal.
Free from lactose, gluten and sucrose.
Store below 25°C.
Distributed in New Zealand by Abbott Laboratories NZ Ltd., 4 Pacific Rise, Mt Wellington, Auckland.
No prices listed for this product.