Carederm Nasal Strips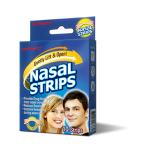 Product Description
Carederm disposable Nasal Strips provide drug free relief from nasal congestion by gently opening nasal passages to improve nasal breathing. Carederm Nasal Strips relieve nasal congestions due to sinus colds and allergies and may reduce or eliminate snoring. They can also improve breathing during exercise.
Directions For Use
1. Thoroughly wash and dry nose area. Any wetness, facial oils or make up can reduce the effectiveness of the nasal strip. Apply the strip 30 minutes prior to sleeping or exercise.
2. Remove a single nasal strip from the release liner. Position the nasal strip on the bridge of the nose in the centre with the centre tab pointing towards the tip of the nose. Refer to the diagram on the packaging.
3. Press the two ends of the strip down along the sides of the nose until the adhesive makes firm contact with each side of the nose.
4. Remove the strip carefully after use.
Carederm Nasal Strips are available in Small/Medium or Large. Small/Medium is suitable for the majority of adults and adolescents with an average to smaller then average nose. Large is suitable for adults with larger noses.
Carederm Nasal Strips are available unscented or with a soothing lavender scent. Lavender helps to relax your body and quiet your mind while calming the spirit.
Warnings and Cautions
Carefully read directions before using.
For external use only. Do not apply over sores or blemishes or on irritated, sunburned or sensitive skin. If skin irritation occurs, discontinue use.
Do not use on children under 5 years of age.
For single use only. Do not use for more than 12 hours per day.
Adwin Korea Corp.
No prices listed for this product.