Mucinex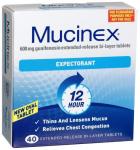 Active Ingredient
Guaiphenesin 600mg per tablet.
Product Description
Mucinex is an expectorant which thins and loosens mucus (phlegm) to help relieve chest congestion. It thins bronchial secretions to rid the bronchial passageways of bothersome mucus and makes coughs more productive.
Mucinex comes in a unique bi-layer tablet which contains an Immediate-Release layer which gets to work fast and the Extended-Release layer which provides symptomatic relief for up to 12 hours - all day or all night.
Directions For Use
Swallow tablet whole with a full glass of water. Do not crush, chew or break tablet.
Adults and children over 12 years: Take 1 or 2 tablets every 12 hours.
Warnings and Cautions
Do not exceed 4 tablets in 24 hours.
Do not give to children under 12 years of age.
Do not take with other products for the relief of colds, flu or cough without medical advice.
Do not exceed the stated dose.
Taking significantly more than the maximum dose, for long periods, may increase the risk of developing kidney stones.
Seek medical advise if your cough worsens or does not go away after 3 days.
Keep all medicines out of the sight and reach of children.
Reckitt Benckiser, Auckland, New Zealand.