Clomazol Cream (Generic of Canesten)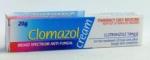 Active Ingredient
Contains Clotrimazole 10mg/g
Inactive Ingredients
Contains Benzyl Alcohol 1% w/w as a preservative.
Product Description
Clomazol Cream is a broad spectrum antifungal cream used for effective treatment of fungal skin infections including tinea, athlete's foot, ringworm and for candidal infections such as nappy rash, jock itch and vaginal thrush.
Directions For Use
Thoroughly clean and dry the affected area. Apply 2-3 times a day to the affected area and rub in well. Continue to use for 2 weeks after symptoms cease to avoid recurrence.
Warnings and Cautions
Not to be taken orally.
Avoid contact with eyes
Keep out of reach of children
If symptoms are still present after four days of treatment consult your doctor or pharmacist.
Clomazol cream should only be used during pregnancy on the advice of your doctor, especially in the first three months.
If, during use, a reaction or intolerance develops discontinue use and please consult your doctor or pharmacist.
Store below 25°C
Distributed by Multichem NZ Ltd., Auckland, New Zealand.