Comvita Olive Leaf Complex Capsules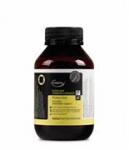 Active Ingredients
Each 3 capsules contain: Olive oil, Olive Leaf extract equivalent to 7.2g fresh leaf (2.4g per capsule). Contains no added alcohol or sugar.
Product Description
Comvita Olive Leaf Complex Capsules contain an extract made from fresh olive leaves, grown and packed on Comvita's own olive estate. Comvita's unique extraction system provides the combination of 12 key naturally occurring polyphenolic antioxidants. Comvita call this Synergy 12™. The result is an extract that contains 5 times the antioxidant activity of Vitamin C, delivering powerful free radical scavenging ability. Comvita Olive Leaf Complex Capsules do not contain any olive leaf extract powders or artificially boosted oleuropein products. Comvita Olive Leaf Complex Capsules provide everyday antioxidant support in a liquid soft gel capsule form.
Directions For Use
Adults and children over 8 years of age: Take 2 to 3 capsules per day.
Warnings and Cautions
Not to be given to children under 8 years of age without medical advice. Pregnant or lactating women - consult your health care practitioner before use.
Comvita New Zealand, Bay of Plenty, NZ.
No prices listed for this product.