Comvita Olive Leaf Oral Spray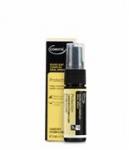 Active Ingredients
Olea europaea (Olive) Leaf extract, Mentha piperita (Peppermint) Oil, Menthol and Salvia officinalis (Sage) leaf extract.
Product Description
Comvita Olive Leaf Oral Spray is made with fresh olive leaves and helps maintain oral health and hygiene. Comvita Olive Leaf Oral Spray freshens breath and is flavoured with lemon and peppermint.
Directions For Use
Adults: Spray into mouth by pumping 4-6 times as required. Children: 2-3 sprays into mouth as required.
Warnings and Cautions
Avoid spraying into eyes. Not to be given to children under 2 years of age without medical advice. Comvita Olive Leaf Oral Spray should be administered by an adult for children under 5 years of age. Pregnant or lactating women - consult your health care practitioner before use.
Comvita New Zealand, Bay of Plenty, NZ.
No prices listed for this product.