Comvita Propolis & Blackcurrant Tablets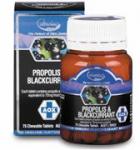 Active Ingredients
Contains Blackcurrant and Propolis.
Product Description
Comvita Propolis & Blackcurrant Tablets have exceptional antioxidant activity. Blackcurrant contains a group of antioxidants called anthocyanins, while propolis contains a much greater diversity of compounds including high levels of the antioxidant group known as flavonoids. Propolis also has strong immune supporting properties. Comvita Propolis & Blackcurrant Tablets are a tasty tablet suitable for the whole family.
Directions For Use
Adults: 2 – 4 tablets daily. Children over 2 years: Chew 1 tablet daily.
Warnings and Cautions
Propolis may cause severe allergic reactions. Pregnant or lactating women - consult your health care practitioner before use.
Comvita New Zealand, Bay of Plenty, NZ.
No prices listed for this product.