Comvita Royal Jelly with Avocado Oil Capsules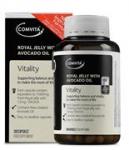 Active Ingredients
Each capsule contains equivalent to 1000mg fresh Royal Jelly with 12mg 10H2DA and Avocado Oil.
Product Description
Royal Jelly is a highly nutritious dietary supplement rich in protein and anti-stress B vitamins that can assist the body's metabolism and the maintenance of general wellbeing. Avocado Oil helps to maintain healthy skin and hair and supports healthy cholesterol levels.
Comvita Royal Jelly with Avocado Oil Capsules are available in either 60 or 300 capsules.
Directions For Use
Adults: Take 1 to 3 capsules per day with food. Do not exceed recommended daily intake.
Warnings and Cautions
This product contains Royal Jelly and is not recommended for asthma and allergy sufferers as it can cause severe allergic reactions. Pregnant or lactating women - consult your health care practitioner before use. Not to be taken by children.
Comvita New Zealand, Bay of Plenty, NZ.
No prices listed for this product.