Comvita Pure Manuka Honey Lozenges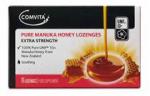 Active Ingredients
Contains 100% Pure UMF 10+ Manuka Honey.
Product Description
Comvita Pure Manuka Honey Lozenges provide the soothing qualities of 100% Pure UMF 10+ Manuka Honey. New Zealand Manuka has long been valued for its health-maintaining effects and Manuka Honey is gaining worldwide recognition for its unique properties. Only some Manuka Honey has the special UMF (Unique Manuka Factor) activity. This honey is guaranteed to be at least UMF 10+ and has been verified by an independent testing laboratory.
Directions For Use
Adults: Dissolve one lozenge slowly in the mouth. Repeat as required up to 5 times daily. Not to be given to children under 2 years of age without medical advice.
Warnings and Cautions
Do not exceed recommended daily intake. Food supplements should not be used as a substitute for a varied diet and healthy lifestyle.
Comvita New Zealand Ltd, Bay of Plenty, NZ.
No prices listed for this product.