Skin Doctors Supermoist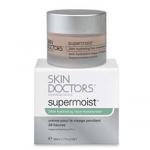 Product Description
Imagine a moisturiser that can make you look years younger! Enjoy 24 hour total hydration and environmental protection. With anti-oxidants, sunscreen and skin illuminators in one super advanced facial moisturiser!
Dry skin can crack and flake making it vulnerable to environmental damage and more prone to fine lines and wrinkles. It can also lose that plump, dewy youthful look. The advanced moisturisers in Skin Doctors Supermoist not only give you an instant moisture injection, but they will actually form an invisible hydrating barrier that keeps moisture within the skin for up to 24 hours. The result? No more dry skin and a plumper, younger looking complexion with less fine lines and wrinkles! As well as bathing your skin in a 24 hour moisturising barrier, Skin Doctors Supermoist also includes skin illuminators so your totally hydrated skin will simply glow!
Directions For Use
After cleansing, gently massage a small amount of Skin Doctors Supermoist evenly over your face and neck. For best results use twice daily, morning and evening. Skin Doctors Supermoist is fragrance free.
Distributed by Skin Doctors Cosmeceuticals
No prices listed for this product.