Durex Ultra Thin Feel Condoms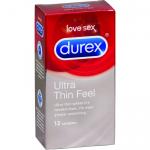 Product Description
Durex Ultra Thin Feel Condoms are super fine condoms with sensi-fit for even greater feeling. They are on average 20% thinner than Durex's standard latex condoms while still providing a high level of security and protection. All Durex's latex condoms exceed the ISO4074:2002 International Quality Standard for male natural rubber latex condoms. Durex Fetherlite Condoms are straight walled and teat ended. They are transparent and lubricated. Nominal width: 52mm. Dermatologically tested.
Warnings and Cautions
No method of contraception can give you 100% protection against pregnancy, HIV or sexually transmitted infections.
Use a condom only once.
Please read the included leaflet carefully.
Durex and the Durex Seal of Quality are trade marks of the SSL Group.