Comvita Grapeseed Capsules with Propolis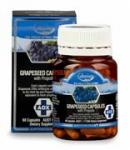 Active Ingredients
Contains Grapeseed and Propolis.
Product Description
Comvita Grapeseed Capsules with Propolis support venous circulation and help to maintain healthy blood vessels and capillary integrity. Grapeseed has a high component of procyanidins (sometimes known as OPCs) that help to strengthen collagen fibers. Collagen fibers are a necessary protein for connective tissues such as skin, bones and blood vessels. They also support a healthy skin during the ageing process by assisting normal collagen integrity.
Dosage
Adults: take 2-4 capsules daily with food.
Warnings and Cautions
Pregnant or lactating women: consult your healthcare practitioner before use. Not to be given to children under the age of two years without medical advice.
Comvita New Zealand, Bay of Plenty, NZ.
No prices listed for this product.