Comvita Manuka Skincare Oil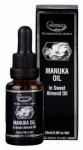 Active Ingredients
Top quality Manuka Oil extract from the Manuka tree.
Product Description
Manuka Oil is an exceptional skin moisturiser for the face and body. Manuka Oil is a top quality extract from the Manuka tree. Suspended in an almond oil base, this highly purified essential oil has a unique floral note and high levels of active compounds.
Directions For Use
Massage into the skin when required.
Warnings and Cautions
When using for the first time patch test on a small area of skin. If irritation occurs, discontinue use. For external use only. Keep out of reach of children. Avoid contact with eyes.
Comvita New Zealand, Bay of Plenty, NZ.
No prices listed for this product.