Germ Free 24 Antibacterial Hand Spray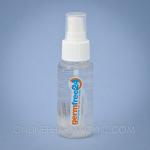 *Limited Stock* - Maximum of only 3 bottles per customer. Orders for more than this amount will be cancelled.
Active Ingredients
3-(Trimethoxysilyl) Propyldimethyloctadecyl Ammonium Chloride 0.40%, Chloropropyltrihydroxysilane 0.02%, Methanol 0.56%, Ethyl Alcohol 18%, Fragrance 0.01% and Water 81.01%.
Product Description
Using advanced technology, Germ Free 24 is the only 24 hour antibacterial protection for your hands. One spray kills germs all day. Perfect for travel or where soap and water is not available to wash hands.
Directions For Use
Spray on and work into hands. Allow hands to dry. One application will protect hands all day.
Warnings and Cautions
May cause eye irritation. Keep away from eyes. If eye contact occurs, rinse with water for several minutes. Remove contact lenses if present. If eye irritation persists, seek medical advice.
For disposal, rinse container with water and recycle.
Distributed by EBOS Healthcare, Auckland, New Zealand.
No prices listed for this product.