Soov Bite Cream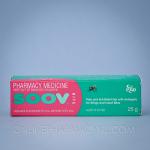 Active Ingredients
Lignocaine Hydrochloride 3% w/w, Cetrimide 0.5% w/w.
Inactive Ingredients
Phenoxyisopropanol 1% w/w and Ethanol.
Product Description
Soov Bite Cream is a pain and itch relief gel with an antiseptic for stings and insect bites. It provides fast acting, temporary relief from pain and itching due to bites from mosquitoes, sandflies, fleas and other biting insects and relief from pain from stinging plants such as nettles. Lignocaine Hydrochloride, the active ingredient, anesthetises the skin and stops the urge to scratch. It also contains an antiseptic to help prevent infection.
Directions For Use
Dab onto affected skin up to 4 times daily.
Warnings and Cautions
Avoid contact with eyes.
Do not swallow.
Do not use on children under 2 years of age.
Do not use on dermatitis, eczema or anal or genital itching.
If skin irritation occurs, discontinue use and seek medical advice.
Store below 30 degrees Celsius.
Distributed in New Zealand by Douglas Pharmaceuticals Ltd, Auckland, New Zealand.