Sea-Legs Tablets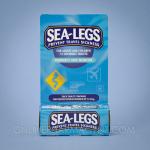 Active Ingredients
Each tablet contains Meclozine Hydrochloride BP 12.5mg.
Product Description
Sea-Legs is specially formulated to provide effective relief for all of the family whether travelling by car, plane, boat or coach. Taken the previous night, or an hour before travelling, Sea-Legs will help to prevent sickness. Or, take them for relief when you feel sickness coming on. Sea-Legs tablets are virtually tasteless so they can be chewed or swallowed with water. One packet of Sea-Legs contains 12 tablets.
Dosage
Adults and children over 12 years: a maximum of 2 tablets per day.
Children 6 to 12 years: a maximum of 1 tablet per day.
Do not give to children under 6 years of age.
Warnings and Cautions
Keep out of the reach of children.
Do not exceed stated dose.
May cause drowsiness. Avoid driving or operating machinery within 8 hours of taking this medicine.
Avoid alcohol.
Do not take during pregnancy without medical advice.
Reckitt Benckiser, Auckland, New Zealand.