Bushman Heavy Duty Insect Repellent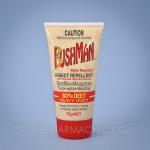 Active Ingredients
800g/kg (80%) Diethyltoluamide (DEET).
Product Description
Bushman Heavy Duty Insect Repellent contains 80% DEET and is an adult strength insect repellent formulated to provide hours of effective protection from biting insects with just one application. Bushman Heavy Duty Insect Repellent resists removal caused by sweating, rubbing or rain. Bushman Heavy Duty Insect Repellent is a water resistant cream formula which repels for hours in areas of intense insect activity.
Directions For Use
Apply a small amount to the palm of one hand, rub both hands together then rub thinly and evenly over the skin. Repeat the process until all exposed skin is covered. For clothing, apply around openings and where clothing fits tightly against the body.
Warnings and Cautions
Avoid contact with eyes, mouth, cell phones, spectacle frames, other plastics, painted surfaces, vinyl seat covers and synthetic fabrics.
Discontinue use if irritation or rash develops.
Not recommended for use on young children.
May be dangerous, particularly to children, if you use large amounts for a long period of time.
If poisoning occurs, contact a doctor or a poisons information centre.
Store in the closed, original container in a cool, dry place out of the reach of children.
Do not store in direct sunlight.
Dispose of empty container by wrapping in paper, placing in a plastic bag and putting in garbage.
North Queensland Laboratories, Queensland, Australia.