Sunsilk Super Shine Travel Shampoo & Conditioner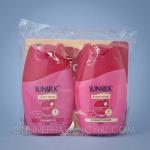 Product Description
Sunsilk Super Shine Shampoo and Conditioner moisturises and replenishes your hair from root to tip. Includes one 50ml Sunsilk Super Shine Shampoo and one 50ml Super Shine Conditioner. Perfect for travel or the gym bag.
Directions For Use
Lather and rinse with Sunsilk Super Shine Shampoo. Follow with Sunsilk Super Shine Conditioner, working it through the hair, then rinse.
Warnings and Cautions
Avoid contact with eyes. If eye contact occurs, rinse well with water without delay.
Unilever Australasia, Petone, New Zealand.
No prices listed for this product.