Palmolive Naturals Travel Sized Shower Milk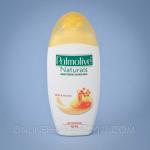 Active Ingredients
Honey, Lactose and Milk Protein.
Product Description
Palmolive Naturals Moisturising Shower Milk with Milk & Honey provides rich moisture with a delicious milk and honey fragrance. Palmolive Naturals uses simply the best ingredients from nature to leave your skin clean and noticeably softer.
Available in a handy 100ml size, it is perfect for travel or in your gym bag.
Directions For Use
For the best lather, apply a small amount of liquid to a wet sponge or cleansing puff. Massage onto body, then rinse off.
Colgate-Palmolive Pty Ltd, Petone, New Zealand.
No prices listed for this product.