Betadine Antiseptic Ointment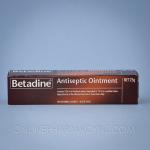 Active Ingredients
Contains 10% w/w Povidone-Iodine. Equivalent to 1% w/w available Iodine.
Product Description
Betadine Antiseptic Ointment is a bactericidal, sporicidal, fungicidal and virucidal antiseptic. It is suitable for the treatment of common skin infections, e.g infected nails, tinea, and prevention of infection in minor burns, cuts and abrasions. Betadine Antiseptic Ointment is non staining and easily washed off the skin and natural fabrics.
Directions For Use
Apply directly to the affected area two to three times daily. Area may be bandaged if necessary.
Warnings and Cautions
Do not use if hypersensitive to Iodine.
Avoid application over large skin areas.
If irritation, redness or swelling develops, discontinue treatment.
In case of deep puncture wounds or serious burns, consult doctor.
For external use only.
Avoid excessive heat and store below 25 degrees Celsius.
MCP Operations Pty Ltd, Auckland, New Zealand.