Johnson's Baby Bath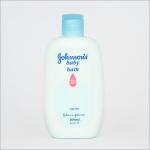 Product Description
Johnson's Baby Bath has a 'no more tears' formula that is as gentle to the eyes as pure water. It's soap free and pH neutral formula won't damage baby's protective acid mantle, therefore helping to minimise dryness and irritation.
Directions For Use
Squeeze approximately 8ml into baby's bath (approximately 10L of warm water). Swirl with hand to mix evenly.
Johnson & Johnson Pacific, Auckland, New Zealand.