Johnson's Baby Lotion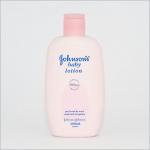 Product Description
Johnson's Baby Lotion is specially formulated to be a gentle and soothing moisturiser on baby's skin, yet effective enough to remove fatty residues from baby's nappy area. It is more effective than water alone because it removes unseen residues that can irritate and cause nappy rash and that water alone can leave behind. It leaves a thin protective film between nappy changes. Johnson's Baby Lotion can also be used as a light body lotion for adults for all over skin softness.
Directions For Use
Apply lotion to cotton wool and cleanse the nappy area ensuring all tiny folds are well cleansed. Use after bath to keep skin soft and protected.
Johnson & Johnson Pacific, Auckland, New Zealand.