Bonjela Teething Gel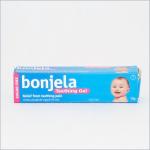 Active Ingredients
Choline salicylate 87mg/g (8.7% w/w).
Inactive Ingredients
Contains alcohol and saccharin. Contains cetalkonium chloride as a preservative.
Product Description
Bonjela is a pleasant tasting gel that provides relief from the pain and discomfort associated with infant teething. Bonjela is sugar free and is suitable for infants over 4 months of age.
Directions For Use
Unscrew cap and discard plastic ring to prevent choking.
Wash your hands and apply enough Bonjela to cover the tip of the index finger.
Rub well into the affected area every 3 hours when necessary.
Warnings and Cautions
This preparation is for the relief of minor and temporary ailments and should be used strictly as directed.
Prolonged use without medical supervision could be harmful.
Do not apply more than once every 3 hours.,
Do not exceed the stated dose.
If symptoms persist, seek medical or dental advice.
Not suitable for babies under 4 months.
Contains alcohol and saccharin.
Store below 30 degrees Celsius.
Reckitt Benckiser, Auckland, New Zealand.