Zinc & Castor Oil Ointment with Vitamin A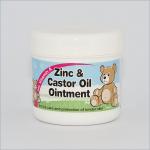 Active Ingredients
Castor Oil, Arachis Oil, Beeswax White, Zinc Oxide and Vitamin A Palmitate.
Inactive Ingredients
Cetostearyl Alcohol.
Product Description
The healing properties of Vitamin A combined with zinc and castor oil help to protect tender skin and assist in preventing nappy rash, wind burn and chafing. This premium baby ointment produces a water-resistant barrier between the skin and urine.
Distributed by Multichem NZ Ltd, Auckland, New Zealand.