Johnson's Baby Soothing Naturals Moisture Rich Bath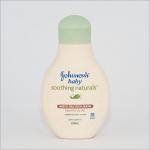 Active Ingredients
Vitamin E and Olive Leaf Extract.
Product Description
Johnson's Baby Soothing Naturals Moisture Rich Bath is made with a unique blend of Vitamin E, Olive Leaf Extract and skin essential minerals. It's 'No More Tears' formula gently cleanses without drying, leaving skin feeling moisturised. Ideal for dry, sensitive, itchy skin. Suitable for skin with eczema.
Directions For Use
Squeeze into baby bath and mix or apply to skin, lather and rinse.
Johnson & Johnson Pacific, Auckland, New Zealand.
No prices listed for this product.