Ansell Contempo Nuda Natural Feeling Condoms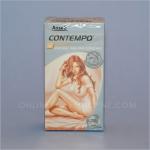 Product description
Ansell Contempo Nuda Condoms use micro-thin technology to produce Ansell's thinnest condoms. If feeling a natural sensation is important, then Ansell Contempo Nuda condoms are for you. They are thinner to maximise sensitivity and sensation. Ansell Contempo Nuda Condoms are a 53mm nominal width, pink coloured with reservoir teat which is lubricated (not spermicidal) for easy application and greater sensitivity. One pack contains 12 condoms.

Warnings and cautions
This product contains natural rubber latex which may cause allergic reactions in some people.
Use water-based lubricant with condoms as oil based lubricants may weaken the condom and cause breakage.
Store in a cool, dry place away from direct sunlight.
Proper use of Ansell condoms will help reduce the risk of pregancy, Sexual Transmitted Infections (STI's) and HIV/AIDS. While condoms are the best known barrier to prevent pregnancy and the spread of STI's and HIV/AIDS, as with all contraceptive products, 100% protection cannot be guaranteed.
Non-vaginal use of condoms may increase the risk of them slipping or breaking.
Ansell Healthcare, Australia.
No prices listed for this product.