Lamisil Once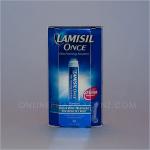 THIS PRODUCT HAS BEEN DISCONTINUED BY THE MANUFACTURER & IS NO LONGER AVAILABLE.
Active ingredient
Terbinafine 10mg/g (as hydrochloride)
Product description
Lamisil Once is a film forming solution which provides a single dose treatment for Athlete's Foot (Tinea pedis). Lamisil Once kills the fungi which causes Athlete's Foot, providing relief from itching, burning and scaling which may accompany this condition. Lamisil Once dries fast and forms a colourless film on the skin.
Directions for use
Apply Lamisil Once is applied only once. Each tube is for a single application and has enough medication to treat both feet. To get the best results, feet should not be washed or splashed for 24 hours after the application. It is therefore recommended to apply Lamisil Once after a shower or bath and wait 24 hours before washing your feet again.
How to use Lamisil Once:
Wash both feet and hands and dry carefully.
Remove the cap from the tube.
Apply to both feet, even in areas where the skin looks healthy. Most people with Athlete's Foot have infection on both feet, even when signs of infection such as itching and scaling are present on only one foot. Treating both feet at once may help prevent re-infection.
Use about half a tube for each foot, as needed to cover skin. Finish one foot before treating the other.
Apply to feet as directed in the included package insert.
Leave the product to dry to a film for 1-2 minutes. It will dry quickly to a colourless film.
Replace the cap on the tube and discard any remaining product. Do not keep or give the remaining product to other people.
Wash your hands after the application.
Warnings and cautions
Do not use if you are allergic to terbinafine, the active ingredient of the product.
You should only apply Lamisil Once to the skin on your feet.
Wash your hands after using Lamisil Once.
Do not get Lamisil Once on your face, near your eyes or on damaged skin (other than the treatment site), or touch your eyes while you still have Lamisil Once on your hands. In case of accidental contact with the eyes, rinse the eyes thoroughly with running water and see your doctor if any symptoms persist. Use with caution where your skin is inflamed or broken.
Do not use Lamisil Once in the case of long term fungal infection of the soles and heels of the feet with associated thickening and/or pronounced flaking of the skin. If you think you might have this condition, you should consult your doctor.
Do not use Lamisil Once if you have fungal nail infection (fungus inside and under the nail), with discolouration of the nails and change in nail texture (thick, flakey), but consult your doctor.
The use of Lamisil Once on children under 15 years is not recommended.
Lamisil Once should not be used by pregnant women or women trying to become pregnant or women who are breastfeeding. See your doctor or pharmacist for further advice.
Some people may experience redness, itchiness, dryness, irritation or a stinging or burning sensation in the areas where Lamisil Once has been applied. Although these symptoms are normally harmless, you should nevertheless tell your pharmacist if they occur, as you may be experiencing an allergy to Lamisil Once.
Novartis Consumer Healthcare, Auckland, New Zealand.
No prices listed for this product.