Mycota Cream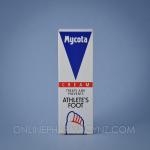 Active ingredients
Undecenoate Ph. Eur. 20% w/w and Undecenoic Acid Ph. Eur. 5% w/w.
Inactive ingredients
Liquid Paraffin Ph. Eur., Emulsifying Wax BP, Perfume Compound 11899 NAROM HSE and Purified Water Ph. Eur.
Product description
Mycota Cream is used as a topical antifungal and antibacterial cream in the prevention and treatment of athlete's foot.
Directions for use
Adults, children and elderly: Each night and morning wash and thoroughly dry the foot, then smooth the cream on to the affected area. Take particular care to ensure the cream is massaged between the toes. Wear clean socks or stockings each day. Continue this treatment for one week after all signs of infection have disappeared. For prevention: Each day, rub in Mycota Cream.
Warnings and cautions
Do not use if you are sensitive to any of the ingredients.
Avoid contact with eyes, areas of soft tissue and broken skin.
Discontinue use if irritation is severe.
Consult your doctor before using this product if you are pregnant or breastfeeding.
Please read the information leaflet included before beginning treatment.
Keep out of the reach of children.
Thornton & Ross Ltd, United Kingdom.
No prices listed for this product.